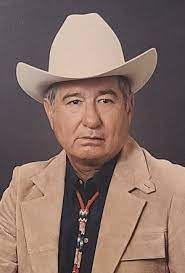 On Friday, the Fourteenth day of October, Chief Bill G. Follis, 89, a resilient and eminent leader of the Modoc Nation peacefully walked on. An extraordinary leader, Chief Follis was a champion for the Modoc people. He began his tenure as Chief of the Tribe in 1972, and was instrumental in the restoration of Modoc Nation to federal recognition in 1978. He served as Chief for nearly 50 years - an incredible tenure of its own in modern tribal leadership. Through more than 12 consecutive terms in office, Chief Follis oversaw the growth of the Modoc Nation government and economy, where he established numerous support programs for the Modoc people.
In addition to his service as Chief, he was a pillar in the community of Miami and in the State of Oklahoma. He served on various boards, including the Oklahoma State University Foundation, Rogers State University, the Bureau of Indian Affairs Task Force under the Administrations of Presidents George H.W. Bush and Bill Clinton, the Inter-Tribal Council of Northeastern Oklahoma, the Claremore Indian Hospital, the Northeastern Indian Tribal Health Clinic, and served as Chairman of the Oklahoma Commission on Indian Affairs. He worked with a nationwide collective of Tribal leaders, U.S. Presidents and Cabinet Members, Supreme Court Justices, State Governors, and countless elected officials at all levels. In recognition for his service, Oklahoma Governor Brad Henry issued the 2008 proclamation that September 25th was to be recognized as "Chief Bill G. Follis Day" in the State of Oklahoma. In further recognition, Bill received the 2016 Distinguished Alumni Award from the Oklahoma State Alumni Association and the American Indian Alumni Society.
Through working with local, state, federal, and tribal leaders, Chief Follis negotiated a joint-compact to open the Stables Casino in 1997. This joint-compact was the first such agreement approved by the National Indian Gaming Commission and the Secretary of Interior. The Stables was not only unique in that it was the first joint-compact, but it was Miami's first casino and only off-track wagering casino in the area for many years. As Chief, he established several other economic ventures to benefit the Modoc Nation for generations to come.
His legacy will loom large in the pages of Modoc history, in the story of Indian Country, and in the Follis family. He will forever be remembered as a founding father and a hero to the Modoc people in the same breath as Captain Jack and Scarfaced Charley.